3 exceptional assemblies
XO, XXO, and Hors d'Âge
Crafted from Grande Champagne, the most prestigious cru in the Cognac appellation, Coutanseaux cognac stands out as some of the most highly sought-after spirits for discerning connoisseurs. These exceptional cognacs are reserved for those with a true appreciation for fine craftsmanship.
La Belle Jeanne
5 Liters of Exceptional Cognac
With their rounded curves, the Belles Jeannes stand out from the range with a sharp design. Presented in a sumptuous leather-gloved box in the shape of a hat box, the Belles Jeanne decanters are a sensation. This high-end envelope is a tribute to the world of Haute Couture, symbol of excellence and influence of French luxury.
Les Belles Jeannes stand out from the rest of the collection by their exclusive advantage: they are the only decanters that can be engraved at the customer's request. Initials, coats of arms, company logo, these personalized messages dress the bottle with precious gilding, reinforcing its uniqueness.
Regular price

Sale price

3.000,00 €
Tasting notes
XO

• Robe: : At first glance, it exhibits an amber hue with golden reflections, a testament to the years it has spent aging in oak barrels.

• Nose: The first nose is bright, very fine and elegant. The woodlot is well present with a floral dominant around grapevine flowers and white flowers. In the air, this XO lets out spicy notes, as well as a wooded, vanised, roasted and roasted aromas.

• Palate: In the mouth, after a frank and sharp attack, a perfect balance reveals elegant and elegant tannins, as well as a powerful structure, more floral than fruity. Vanilla notes date back, accompanied by the softness of apricot, pastry butter and caramel.
XXO

• Robe : Of a beautiful sustained amber color, with orange reflections, typical of the many years spent in Chais.

• Nose : Upon the first nose, you'll detect notes of coffee, wood, and vanilla. The aromatic richness of this cognac is immediately apparent through its intensity, power, and lingering presence. With aeration, complex notes of prunes, plum, exotic fruits, and tobacco emerge.

• Palate: On the palate, its structure is dense, ample and invades us with its wooded, toasted and spicy notes. At the end of the mouth, coffee, licorice, tobacco, fig and leather. The tannins are silky, the final is smooth and persistent.
Hors d'Âge

• Robe: Its beautiful amber color with coppery reflections reveals red and mahogany tones.

• Nose: A first round nose, silky and powerful. The charentais rancio is omnipresent, accompanied by notes of nuts and liquorice. The aeration shows spicy notes, ranging from the clove of cloves with its brighter points to the cinnamon and the nutmeg with a lot of roundness. At the end of the mouth, notes of dried fruits tinged with candied orange appear.

• Palate: In the mouth, a very silky structure, soft, blond tobacco. Floral notes, irises, nuts, chocolate, coffee ... At the end of the mouth, a very beautiful length.

A voluptuous decanter inspired by the tradition of Cognac
Les Belles Jeannes captivate with their unique design—a voluptuous silhouette characterized by elegant curves. The decanter is adorned with a meticulously hand-placed gilded rope and a golden ferret bearing the Coutanseaux seal. These numerous details exemplify the exceptional character of these bottles, much like the inclusion of an authenticity card carefully nestled within the box.
This tailor-made decanter serves as a vibrant homage to Jeanne Coutanseaux, a central figure in the history of our house. As the sister of Joachim Coutanseaux, the founder, Jeanne played an active role in the family business and was a cherished pillar of support for her brother. Naming our most prestigious range in her honor is a lasting tribute to an inspiring woman whose unwavering dedication has guided our house throughout its storied history.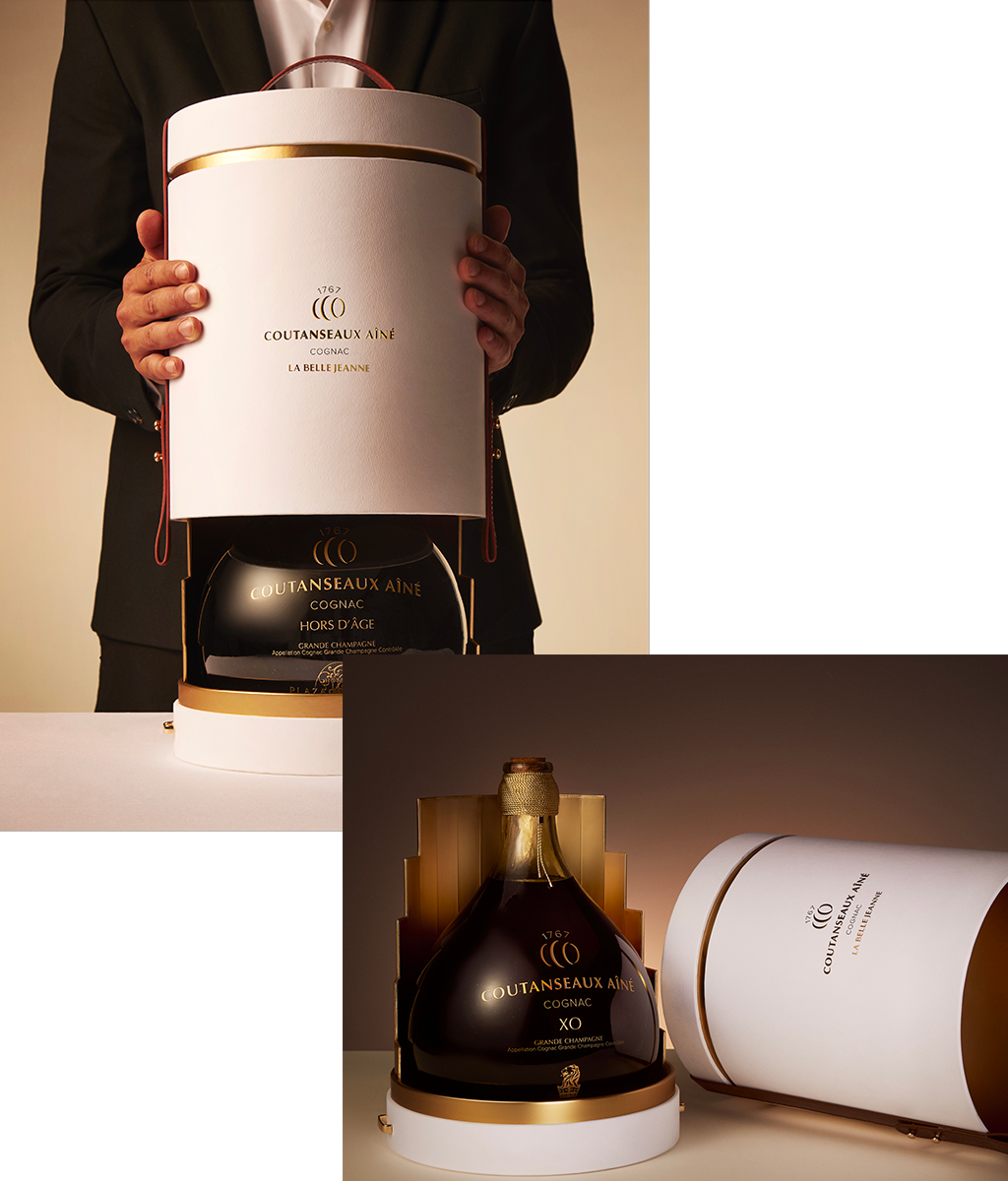 A box symbol of French luxury
With this exceptional case, Coutanseaux embraces the purest traditions of French luxury—a philosophy that places as much emphasis on the quality and precision of craftsmanship as it does on using exceptional materials. At Coutanseaux, luxury is not defined by an expression of wealth, but by rarity. From the initial glance, this monochromatic case entices with its remarkable elegance and refined silhouette, adorned with details enveloped in saddle leather. Upon opening, the sense of surprise continues with the revelation of a golden interior shimmering with radiant reflections, enveloping La Belle Jeanne like a luminous halo.